STELLING STORES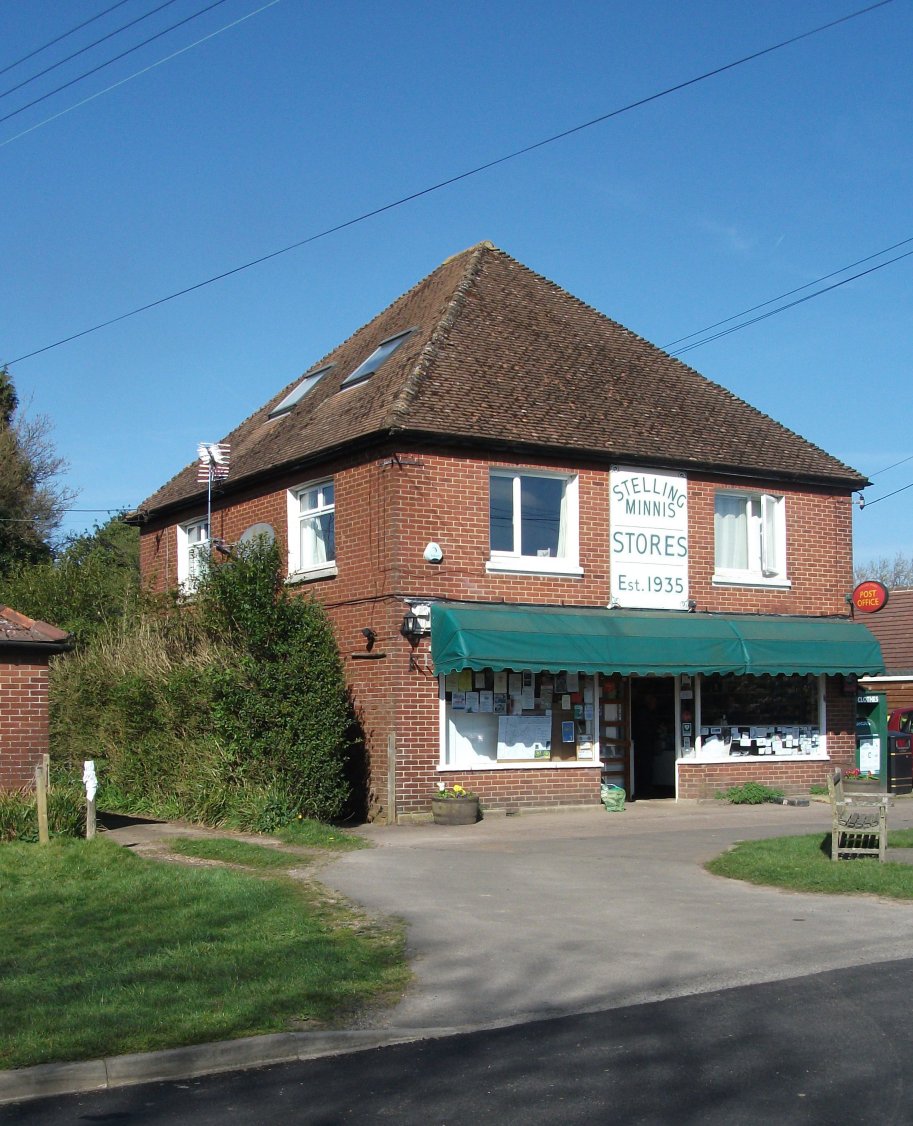 Stelling Stores was established in 1935 and provides a vast range of services not only to Stelling Minnis but to neighbouring communities. In addition to groceries and green groceries it also has an off licence, and a post office*. The shop is in Minnis Lane, Stelling Minnis, just a few minutes drive off the B2068 - Stone Street. Open 8am - 8pm Monday to Saturday; 10am - 1pm Sunday and Bank Holidays. Bruce and Emma Warden welcome you to their shop.
Image produced from the Ordnance Survey Get-a-map service. Image reproduced with kind permission of Ordnance Survey and Ordnance Survey of Northern Ireland.
Fresh bread and cakes everyday except Sunday - orders are encouraged as we have to keep our delivery of unordered fresh bread and cakes quite small;

Range of ready sliced bread and packeted cakes;

Fresh milk daily approx 10.30am;

Fresh meat from Coopers of Aldington, Tues and Thurs, orders taken with pleasure;

Fresh fish from Griggs most Fridays, dependent on demand;

Fresh fruit and veg, Mon, Wed and Friday around lunchtime;

Dry cleaning and Laundry, Tues back Fri, Fri back Tues (laundry takes a little longer);

Local free range eggs;

Local tomatoes (in season);

Off licence:

Mobile phone top up:

Tickets for Village People shows and other local events, when available.

Also Cigarettes; papers and magazines; greetings cards and wrapping paper; batteries; hardware; - in fact almost everything that you would need for day to day living;

Directions to almost anywhere local.

A smile with every purchase!
If you are hesitant about shopping with us because we donít stock youíre favourite brand, please ask as we do often get specials in for regular customers. We look forward to seeing you soon.
* Post Office is open Monday, Wednesday and Thursday only (9am - 1pm; 2pm - 5.30pm). Post box opposite the stores, last collection 5pm Monday to Friday and 9am Saturday.
If you are visiting the area and need to place an order for collection on arrival, we would be happy to supply your needs and have your goods ready for you by arrangement. Just e-mail us and see what we can do for you - shop@stellingstores.co.uk
Visit the Stelling Minnis or Bossingham and Upper Hardres web sites
Have a cream tea at Stelling Minnis Windmill (Sunday and Bank Holiday afternoons)
No liability accepted for information provided by third parties. Whilst every effort is made to ensure that this web site is virus free, no liability is accepted for any damage, howsoever caused, to any computer or information stored on it arising from use of or visiting this web site or any links from it to other sites.
Web site designed and built for Stelling Stores by Nick Smith.
last update: 19 August 2014